[themify_box style="rounded shadow" ]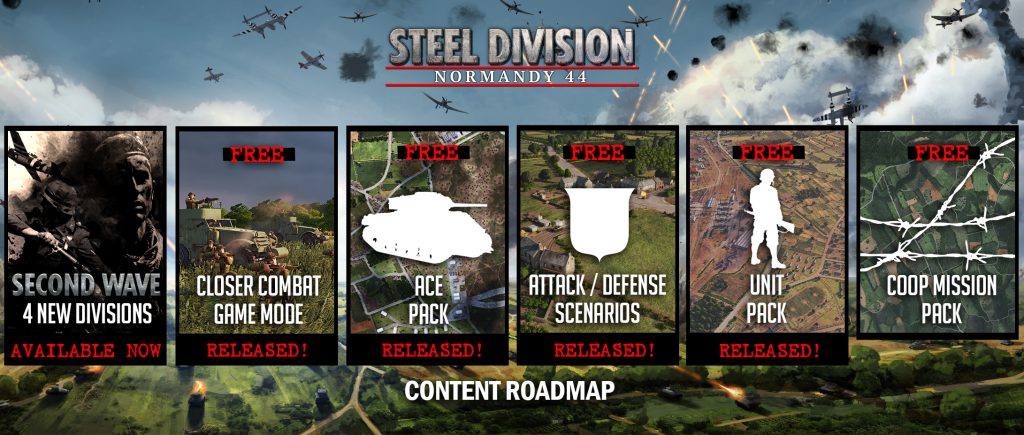 Since the release of Steel Division: Normandy 44, we have been continuously supporting the game with new map variants, modding tools and balance updates. And since we will continue to use our community's feedback to tweak the game, we are happy to announce that we will also release new content, most of it for free, in the future.
We know how much you like teasing, so we're not revealing everything at the same time (it wouldn't be funny), nevertheless, here are the first details on what's coming:
Second Wave DLC (read the full announcement here): 4 new divisions, 35 new units including the magnificent M18-Hellcat, fresh blood to the battlefield.
Free New Game Mode – "Closer Combat": Read the official announcement here.
Free Ace Pack: This first pack will contain 2 new exclusive ace models from World War 2.
Free Attack/Defense Scenarios: In these scenarios, one side will play as an attacker, and the other one as a defender. 2v2 incoming!
Free Unit Pack: 4… no… SIX NEW UNITS! And none of them will be OP. Promised.
Free Coop Mission Pack: Yes. You read correctly. We're currently testing new game mechanics, and it's actually fun to play in coop. This pack will not only contain a coop mission, but also… new stuff.
We hope to release all of this content before the end of 2017, maybe in the very beginning of 2018.
Keep an eye on this page, it will be updated… Soon™.
[/themify_box]