As announced last week, Second Wave, the upcoming Division Pack for Steel Division: Normandy 44, will allow you to take control of 4 new divisions: The American 4th Armored Division, the British 1st Special Service Brigade, the German 9. Panzerdivision and the 16. Luftwaffen-Felddivision. We also revealed the Content Roadmap for the game, don't hesitate to take a look to know what's coming for you in the coming months. For those who still don't have the game, you can get 33% off Steel Division: Normandy 44 in the Paradox official store.
Let's focus today on the forefather of all Western modern special forces: the British Commandos!
A NEW TYPE OF WARFARE
Although Operation Dynamo managed to rescue over 300.000 men trapped in the Dunkirk pocket and was regarded by many as a "miracle", Churchill grimly commented that "Wars are not won by evacuations". Indeed, Britain had been expelled from continental Europe, had lost all its Army's heavy equipment and was now standing alone against Germany. It would be a long time before its army reorganized, got re-equipped, and be able to fight again. And in the short term, the focus was on being at least able to repel a German amphibious landing on its soil, not attacking. Hence, prospects were gloom; yet Churchill wanted to bring the fight back to the enemy and announce victories as soon as possible.
Commando warfare was the brainchild of 
lieutenant-colonel Dudley Clarke
. Born in South Africa, Dudley Clarke knew his military History, especially the tactics used by the Boer 
Kommandos
 with such effectiveness against British troops at the turn of the century, and had taken part himself in the repression of the 1936 Arab Uprising in Palestine. Inspired by these irregular troops' tactics, he proposed to create highly trained and specialized units able to mount raids and deep reconnaissance in enemy territory: they were meant to be self-sustaining combat units carrying all the equipment needed to perform their mission, and not remain on the field more than 36 hours. The idea suited Churchill's offensive spirit and was quickly approved.
TRY & ERRORS
Volunteers were called within the British Army to gather a force of 500 men, to be organized as ten 50-man troops. But recruiting, equipping and training them properly would take time, something Churchill wasn't willing to grant. Under pressure from the Prime Minister to launch the first raid immediately, although the first commando unit wasn't ready, Dudley Clarke tapped into another ready source: The Territorial Army's Independent Companies, guerilla-style units raised for the Norwegian campaign. From the ten disbanded companies, he recruited 350 men and 25 officers and formed them into a 11th Independent Company on June 14th, 1940, which received a hasty training in Scotland before being sent on its first raid: codenamed Operation Collar (June 24th).
This operation's purpose was to land in Pas-de-Calais, capture prisoners, and reembark. Planned in urgency, the raid was a failure regarding its objectives since no prisoner was brought back and one landing party had to abandon its weapon to swim back to the boats. But the British raiders killed two German sentries and didn't lose a man, with the only (lightly wounded) casualty being Dudley Clarke himself. British propaganda used the raid to bolster morale, stressing the fact that British troops have brought the fight back to the enemy and inflicted casualties.
Three weeks later, another raid was launched against occupied Guernsey, with no better results, both operations being plagued with improvisation and lack of planning. Yet the experience proved valuable, and steps were taken to remedy those issues. A major one was the creation of the commandos' own headquarter (Combined Operation) and the appointment of a new commander, Admiral Roger Keyes, a close friend of Churchill. Under his direction, recruitment was intensified, even though the selection criterions were raised and only the best elements were retained.
A dedicated commando school was set in Achnacarry, Scotland, where an extremely harsh training regimen made sure to skim the number of volunteers, only retaining those in perfect physical and mental conditions. Commando courses focused on physical fitness, but also taught the volunteers close combat techniques, use of explosives, mechanics, map reading, and more. Over the course of the war, not only British but also foreign volunteers from many occupied countries, such as Norway, France, Belgium, the Netherlands, etc., could be instructed at Achnacarry. Even American volunteers from 
34th Infantry Division
, later to form the 
1st Ranger Battalion
, were taught commando tactics there. Thus, was created a common origin to most modern Western commando units.
RAIDERS
In 1940-1942, the raids increased. Commandos operated in North Africa, Crete, Norway, Syria, and more; but France remained the main target. In October 1941, Admiral Keyes resigned, being replaced by Lord Mountbatten, a cousin to the King.
1942 saw some of the commandos most famous operations. In March, 
Operation Chariot
 proved to be one of the most successful, yet very costly. In a daring and well-planned night assault, over 600 commandos and 
Royal Engineers
 stormed and destroyed the dry dock at Saint-Nazaire. It was the only place on the German-held Atlantic coast where major 
Kriegsmarine
 ship such as the 
Bismarck
 could repair, forcing them to go back all the way to the Baltic sea to do so. The raid accomplished all its objectives, but less than half of the assault troops returned safely. On August 19th, 1942, commandos landed with the Canadian troops at Dieppe for 
Operation Jubilee
: although the operation ended in failure and heavy losses for the Canadian main forces, the commandos were the only units which achieved their objectives and returned safely to England.
In September, Operation Musketoon in Norway, accomplished by ten British commandos and two Norwegian SOE operatives, managed to destroy the German-held Glomfjord power plant. Once again, although a success, the operation led to the capture of more than half the commandos. What set this operation really apart, is that the prisoners, after interrogation, were all transferred to Sachsenhausen camp and executed in accordance with Hitler's Kommandobefehl stating that any captured Allied commando should be shot without trial. They were the first ones to fall victim of that order.
REORGANIZATION
In 1943, the commandos were reorganized. The successful raid on Saint-Nazaire had the unsuspected consequence of refocusing Hitler's attention on the Atlantikwall, increasing its defenses. With the Normandy landings under planning, it was considered counter-productive to keep the Germans under pressure and alert on that front.
Therefore, the commandos' role was changed. From small and stealthy infiltration & sabotage groups, they were reorganized into battalion-size units with heavy weapons. Regrouped into four Special Service Brigades (more commonly referred to as Commando Brigades for the commandos hated the "SS Brigade" moniker), they were to act as shock troops for future Allied landing operations.
1st Special Service Brigade was formed in Britain for D-Day with No. 3, 4 & 6 Commandos, No. 45 (Royal Marines) Commandos and the two French troops (a.k.a Commando Kieffer, from their commander) from No. 10 (Inter-Allied) Commando. It was placed under the command of Brigadier Simon Fraser, more famous under his Scottish title Lord Lovat, himself former commander of No. 4 Commando.
D-DAY
1st SSB's mission for Operation Overlord was to land in the second wave on Sword Beach, just behind 3rd Infantry Division, neutralize several gun batteries overlooking the beach, then proceed inland without delay toward Bénouville to relieve the 6th Airborne Divison's advance party holding the bridges over the Orne. On D-Day, Lord Lovat brought his kilted piper Bill Millin with him and ordered him to play while they landed, despite British army regulations forbidding to do so because, he stated, being Scots and not Englishmen he considered such regulations didn't apply to them.
Shortly before hitting the beach, Lovat had ordered the assault barges carrying the British commandos to slow down to let the French ones be the first to set foot on their national soil. Once ashore, the British commandos attacked their objectives only to find the batteries' positions empty. The French commandos, on the other hand, encountered heavy resistance to secure the well defended remaining one under the (former) Riva Bella casino at Ouistreham.
Once their objectives secured and the brigade regrouped, Lovat and his men moved as quickly as possible toward Bénouville, which they reached two minutes and a half after 1 PM, and after schedule. A delay for which Lovat apologized to the paratroopers. While the latter remained at the bridge to protect it, the commandos got across to push the Germans as far away as possible from it. While running across the bridge, twelve British & French commandos were shot dead while Bill Millin, walking and playing the pipes, went unscathed. German prisoners allegedly claimed to him afterward that they spared him because they thought he had to be insane to be playing that instrument so casually while everybody was falling around him.
Once on the other side, 
1st SSB
 secured a defensive bridgehead East of the Orne and went on the defensive. For the next week, commandos and paratroopers fighting side by side suffered heavy casualties from German mortar fire and counterattacks, including from 
21. Panzerdivision
. On June 12th, with enough infantry & tank reinforcements landed on the beaches, General Gale, commanding the 
6th Airborne
, ordered an assault on Bréville to expand the bridgehead. Although his troops weren't to be committed in the attack, Lord Lovat went forward to observe the assault. But a stray shell from the British artillery landed right on the group of senior officers he was with: two were killed, and two others, both Brigadier (including Lovat), were wounded. "The handsomest man to cut a throat", as Churchill described him, was evacuated to the UK and although he recovered completely from his wounds, never returned to command his brigade.
1st SSB, which should have remained ashore for a few days before being pulled out, instead stood on the frontline for eighty-two days, defending the left wing of the Allied bridgehead. It was only brought back in England in early September, alongside 6th Airborne Division.
AFTER NORMANDY
Back in the UK, the division trained and amalgamated replacements, but was rushed back on the continent to hold the line in the face of the German counter-offensive in the Ardennes. Later, in March 1945, it took part in Operation Plunder, the crossing of the Rhine.
Crossing several lesser rivers, the commandos ended the war near Lübeck. Army commando were disbanded on October 25th, 1945, with the sole Royal Marines retaining the commando role.
---
THE 1ST SPECIAL SERVICE BRIGADE INGAME
While Steel Division: Normandy 44 usually models, well, divisions; 1st SSB is actually (as its name implies) represents a smaller brigade. Which means three things:
Some of its unit choices ingame are attachments from other units, such as Funnies & Royal Engineers from 79th Armoured Division, intelligence teams from 30 Assault Unit, … which had operated with it at least on D-Day.
It gets fewer activation points than any other division ingame, to reflect its smaller size and higher degree of specialization.
The brigade hits hard, then has to hold the ground with teeth and nails against superior enemies before being reinforced and able to advance again, hence it has an unusual economy in the shape of a 'V', with less income in B than A & C.
1st Special Service Brigade relies on a large infantry pool, comprised for the most part of elite Commando units, divided into several types. Just like the US Rangers (which were actually inspired by the British commandos), the core commando units are divided into 4-man Cmdo Leaders and 6-man Cmdo Assault (full SMG with TNT) & Cmdo Support (rifles with double Vickers K-gun LMG). Another 6-man squad, called Cmdo 6, represent those veterans from No. 6 Commando which had been lent American Garand rifles in Algeria and "declined" to give them back afterward: with five Garand and a sniper rifle, they are perfect hunters. Those are the specialized squads available in Phase A, with the French Cmdo Fus-Marins providing the more mainstream 11-man squad with mixed Sten, Rifles & Bren. All of them elite and with the 'Airborne' trait, making them immune to encirclement.
To back them up in phase A, the commandos can count on the Royal Marines' Centaur IV, a different version of the Cromwell VI, as well as Fleet Air Arm's light fighter-bomber Wildcat V. Another FAA addition is the Seafire L.III, a recon Spitfire doubling with a fighter, although low on ammunition to give way to cameras. The brigade's recon element is provided by the very secretive 30 Assault Unit (the brainchild of no less than Ian Flemming, of James Bond fame!), Royal Navy intelligence branch's operatives who landed in the wake of the commandos to secure key intelligence documents or even personal.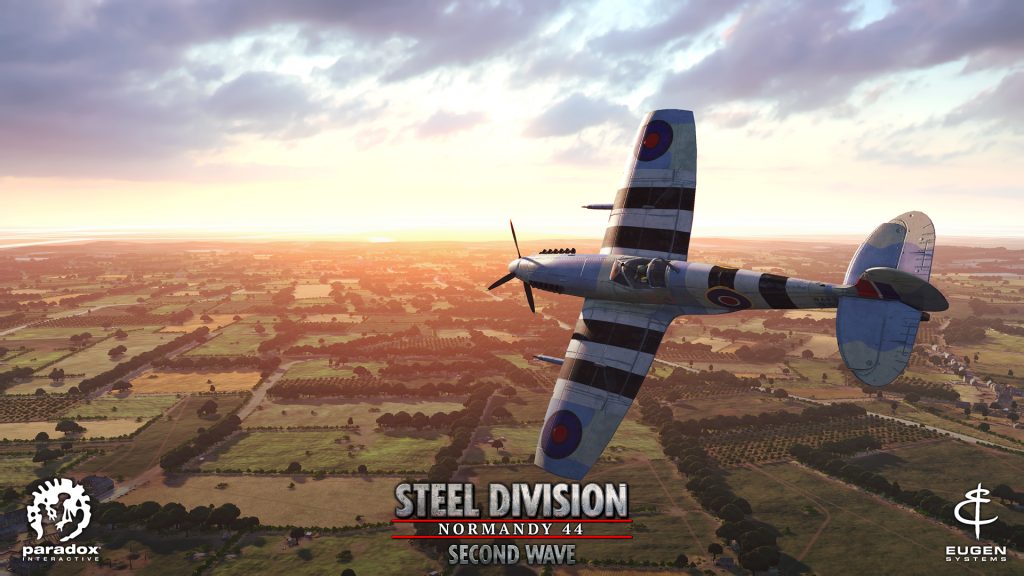 Originating from a small raiding forces, 1st SSB clearly lacks in the support arms. Its sole AT option in early game being Cmdo Tank Buster infantry teams armed with double PIAT. Artillery and AA are also restricted to light guns. The TANK tab, although restricted to only 3 slots, is yet quite versatile, allowing to configure the brigade's few armor support in several ways, from an all-out but quite limited Phase A Sherman DD offensive, to more numerous but late-coming Sherman V or command Churchill support.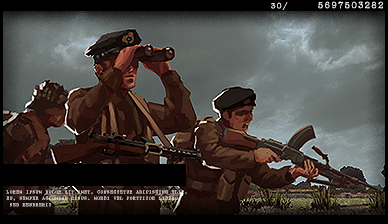 In Phase B, the brigade can count on Cmdo Vickers and the gun-blazing Cmdo Royal Marines, configured as the French Commandos but with the welcome addition of a PIAT, as well as some armored recon. But that's pretty much all for the ground forces, which must be prepared to go through hell in that Phase!
The best improvements come in the air and off-map, with the arrival of FAA veteran & elite Seafire III fighters to clear the sky, as well as more Wildcat V and some more heavily loaded Hellcat I. Off-map support is provided by massive barrage of 960 (!) 127mm rockets provided by LCT(R) barges.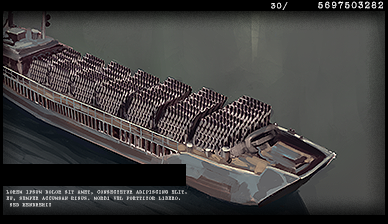 In Phase C, the much-needed reinforcements finally arrive: cheap and numerous 79th Armoured Division's Assault Pioneers, Hobart's Crocodile & AVRE support tanks, anti-tank guns & (Canadian) Wolverines, 25-pdr guns & Churchill OP.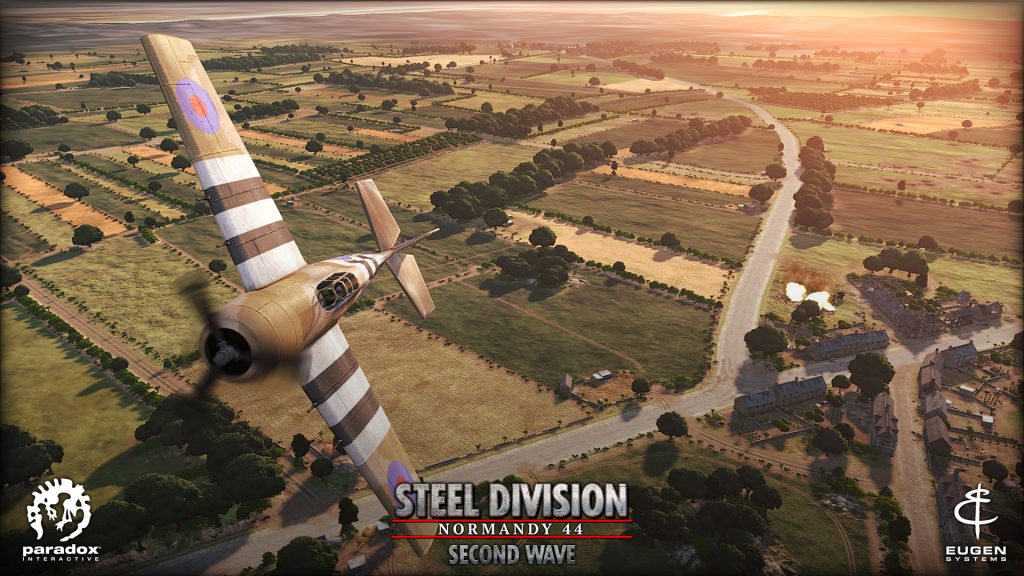 Second Wave will be available on September 21st.