Ace of Spades, the fourth free update for Steel Division: Normandy 44, will be available on October 26th and will feature new Attack/Defense scenarios as well as new free aces.
Let's have a look at the story of those two gentlemen.
STAFF-SERGEANT 'WARDADDY' POOL
The character 'Wardaddy' played by Brad Pitt in Fury is actually inspired by a real tank commander going by the same nickname: Lafayette Green Pool.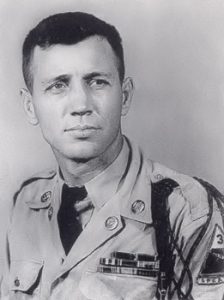 Born in Texas, Pool was drafted in the Army in Summer 1941 and assigned to the newly formed 3rd Armored Division. During training, he was noted as an able and aggressive commander and offered the opportunity to attend officer course but refused on the basis that he wanted to remain close to the front. He was promoted to staff sergeant instead.
Deployed in Europe with 3rd AD's 32nd Armored Regiment, Pool soldiered through the campaigns in Normandy & Belgium, then raced to the Rhine. Over that period, he lost three tanks (all three named "In the Mood") under him: the first one a regular M4A1 hit by a Panzerfaust ; the second a M4A1(76) struck by a "friendly" P-38 ; and finally the last one, another M4A1(76), destroyed by a Panther laying in ambush while 3rd AD attacked the Siegfried line on September 15th, 1944. Although left unscathed in the first two attacks, Pool was severely wounded in the last one, resulting in one of his leg being amputated.
This didn't end his military career, for he took part in the Korean War in the Transportation Corps, then served as an instructor in 3rd Armored up to the 60's.
Yet, although he only fought for about four months, 'Wardaddy' was credited with 12 confirmed tank kills and the destruction of 258 other armored vehicles, making him the greatest American tank ace up to this day.
In
Steel Division: Normandy 44
, SSgt '
Wardaddy
' Pool is represented by an elite
CMD M4A1
.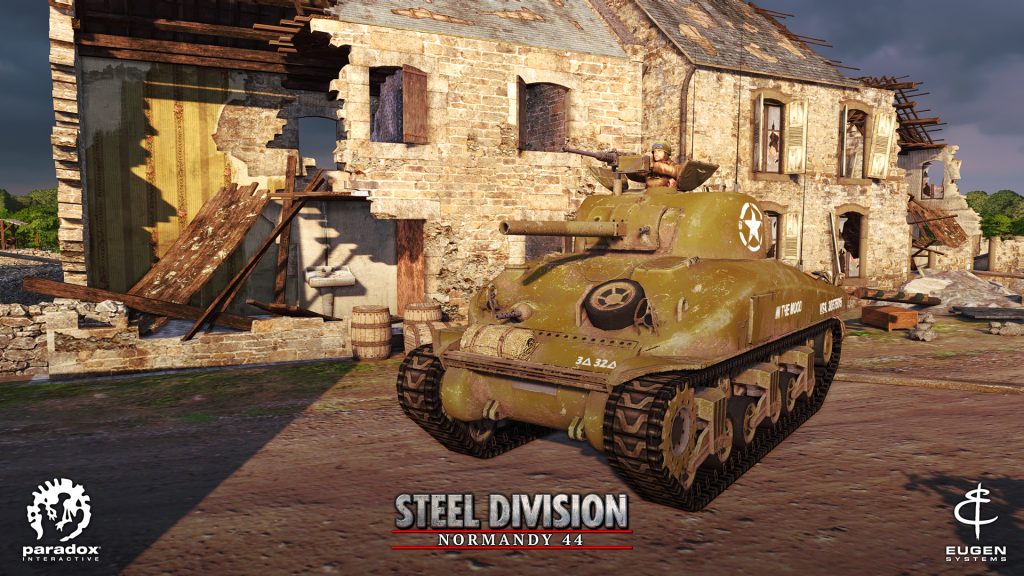 OBERFELDWEBEL UHLIG
Born in Saxony, Alexander Uhlig was among the very first to join the new German airborne forces, enlisting with I. Bataillon/Fallschirmjäger-Regiment 1 from 1937. With it, he took part in the Sudetenland invasion, the campaigns in Czechoslovakia, Poland, Norway (where he was captured after his plane crashed, escaped and jumped back into action at Narvik), survived Creta and even served in North Africa. Transferred to Oberst von der Heydte's 6. Fallschirmjäger-Regiment in Normandy in 1944, the distinguished veteran NCO will rise to legendary status.
On July 22nd, the American 90th Infantry Division sent the 358th Infantry Regiment's 1st & 2nd battalions (900-strong each, theoretically) with heavy artillery support to capture Saint-Germain-en-Seves, held by elements from 6. FJ-Rgt. Despite their superiority, the Americans only made slow progress, leading Oberst von der Heydte to believe it was just a reconnaissance in force. Therefore, he ordered a single company to counter-attack to restore the frontline and make prisoners. The selected 16. Kompanie was down to 32 men (out of 166), had already lost all its officer and was led by veteran sergeant Uhlig.
Going ahead on a recon mission, Uhlig realized what kind of opposition he was really against, but also that he and his men were all that was standing in a gap formed between the regiment's
6.
&
11. Kompanie
. Observing the enemy positions, he quickly established a battle plan and he and his men crawled on the enemy's right flank. At 6 PM, the
Fallschirmjäger
launched their attack against the
358th IR
's 1st Battalion's flank and in three hours pushed them back about 300m, inflicting heavy casualties (although many happen to be stragglers fleeing from their unit and rejoining later). By nightfall, one pincer of the American attack had been repelled, but the survivors were digging in and wouldn't be as easily beaten the next time. Therefore, Uhlig decided to move at the opposite end of the frontline and do the same against the other American battalion!
Down to 28 men, Uhlig secured the help of three tanks from 2. SS-Panzerdivision and got 16 replacement men (although inexperienced) and two MG-42 in support. The attack came at 7 AM on June 23rd and hit near the 1st Battalion's command post. Uhlig attacked thrice, his first two assaults being stopped, especially since two out of his three tanks broke down quickly! But the third assault was more than the Americans could handle and on order from their commander, they dropped their weapons and surrendered. Not all obeyed that order though, and many tried to fall back on friendly lines. But that's where Uhlig's MG-42s entered in action: well-positioned to stop any potential reinforcements, they were in a perfect position to cut down any retreating American!
Uhlig restored the frontlines and sent his prisoners to the rear, only then realizing he had made more than 200 (the final count gave 265 POW, including six officers). Later, he arranged a truce with American chaplains so that American wounded could be evacuated by stretcher-bearers. Commended by von der Heydte for his action, he was awarded the Knight's Cross. He wouldn't enjoy it for long, for Operation Cobra was launched less than a week later: surrounded with his men by the American offensive, Uhlig surrendered in his turn. Sent to a POW camp in England, he was still there in 1947 when he accomplished another exploit: escaping from the camp, managing to board a boat for Germany as a stowaway, then crossing the US-Soviet zones' border unnoticed to reach home in Leipzig. He was never recaptured.
After the war, he was active in trying to reconcile former enemies. Being held in high esteem by his former New Zealander (from Creta) & American (from Normandy), he was a guest of honor of many Allied remembrance ceremonies. Yet he was shunned in Germany for insisting on wearing his original Knight's Cross, stamped with the swastika.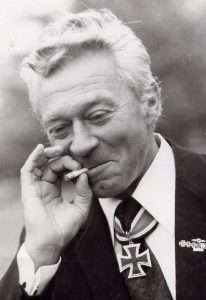 In Steel Division: Normandy 44, OFw Uhlig is represented by an elite Fs.Führer command squad in the 91. Luftlande-Division.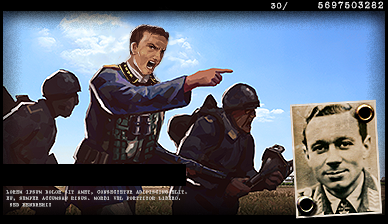 You can read the full Ace of Spades announcement on Steam. Stay tuned!