Let's focus today on the first division to set foot on French ground on D-Day: the British (and Canadian) paratroopers from 6th Airborne Division.
RISE OF THE BRITISH PARATROOPERS
A latecomer to airborne warfare, Britain only realized its potential after the German lightning successes during the campaigns of Netherlands and Belgium, in 1940. Ironically, the development of a British airborne doctrine almost coincided with its abandonment by the Germans, after their heavy losses in Crete.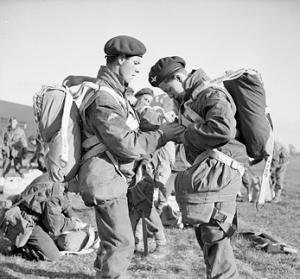 In June 1940, alone to face the German war machine, under threat of invasion, and with most of its heavy army equipment laid on the beach of Dunkirk, airborne raids were also one of the few remaining ways left for Britain to bring the fight to its enemy. On November 21st, 1940, the 11th Special Air Service Battalion was operational and performed its first airborne raid (Operation Colossus) in Italy on February 10, 1941. The raid was successful -although the whole commando (minus one man) was captured and their sabotage quickly repaired- and it vouched for the expansion of the airborne forces.
In May 1941, the 1st Airborne Division was formed with two parachute brigades plus airlanding troops. The British paras performed more raids, in occupied France & Norway, and fought in Northern Africa & Sicily where they earned their "Red Devils" nickname.
THE PEGASUS DIVISION
On April 23rd, 1943, it was decided to expand the airborne forces by creating another division, the 6th Airborne Division. It was made up of the veteran 3rd Parachute Brigade (including a Canadian Airborne Battalion), transferred from 1st Airborne Division, as well as the new 5th Parachute Brigade & 6th Airlanding Brigade. Later, Pathfinders & the 6th Airborne Armoured Reconnaissance Regiment were added. Command of this new division was given to Major-General Richard N. Gale, who had already formed the 1st Paratrooper Brigade.
Gale was a WW1 veteran, and the senseless sacrifice of thousands of soldiers had left a mark on him: he became an advocate of a small but highly trained forces over a large one, and of maneuver over firepower. He applied those principles to his newly formed division while it was training for the upcoming invasion of mainland Europe. The 6th Airborne Division's mission in the Allied invasion was to provide cover on the left flank of the Normandy beachhead, with two major objectives: the neutralization of the coastal battery at Merville, and the capture of the bridges over the Orne river & canal at Bénouville.
OPERATION TONGA & OPERATION DEADSTICK
Leading elements of 6th Airborne Division were among the first allied soldiers to set foot in France in the earliest hours of D-Day. Ahead of the division, a reinforced company led by Major John Howard glider-landed near Bénouville to capture its vital bridges over the Orne river & canal (Operation Deadstick). The Bénouville bridge was later to renamed "Pegasus Bridge" to honor the British paratroopers.
The rest of the division landed a few hours later, scattered over a large area. Thanks to Gale's harsh training and unorthodox thinking, small bands of men were able to reorganize, throwing away outdated plans and drafting new ones from scratch to seize objectives thought to be achievable by up to twice or thrice their numbers. The most famous of those feats is without a doubt the assault on the Merville battery: the capture of such a well-defended objective was assigned to a 750-man strong battalion with engineering equipment, attacking partially from inside thanks to glider-landing within the perimeter. In reality, it was taken after a furious frontal assault, by 120 men without any special equipment, all from the outside. Between June 8th & 13th, the paratroopers were heavily engaged with the German 
346. Infanterie-Division
 for the control of the key village of Bréville-Les-Monts: whoever controlled it could protect, or threaten, the whole Eastern flank of the Allied beachhead. It finally remained in British hands. Afterward, the paratroopers' sector remained calm, until the division was returned to England in August.
AFTER NORMANDY
The 6th Airborne Division amalgamated replacements and trained for an assault landing over the Rhine river, but was brought back to mainland Europe on Christmas Day to counter the German offensive in the Ardennes. Fighting as infantrymen with XXXth Corps, they stopped the German spearhead from Fifth Panzer Army, then pushed back in the Netherlands. It was brought back in England again in February 1945, and resumed its training.
The real assault on the Rhine (Operation Plunder) took place on March 23rd, 1945. That was the last part the 6th Airborne took in the ETO. Its 5th Parachute Brigade was sent to South East Asia but only to arrive after Japan's capitulation.
---
THE 6TH AIRBORNE DIVISION INGAME
6th Airborne's main assets in Phase A is its elite infantry, naval fire support & airborne light tanks. The former regroups all type of infantry units (assault, fire support & command squads, as well as flamethrowers and Vickers MG teams) and recon snipers & pathfinders. Although a bit lacking at long range, British paratroopers' firepower at close combat range is enough to wipe out most enemy squads in a matter of instants: the 'Red Devils' like to fight up close and personal.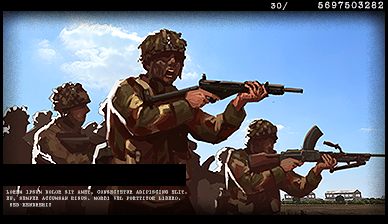 To support the infantry, early airborne artillery consists mostly of mortars & light howitzer. On site at least, for thanks to a few attached artillery forward observers, the 6th Airborne can call in some salvos from the Royal Navy's 381mm guns (15-inches).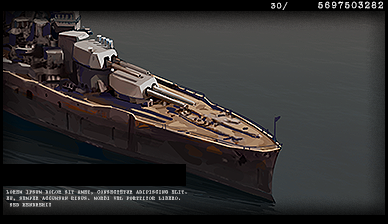 Anti-tank capacity is provided by a few PIAT teams, although some crafty paratroopers had managed to capture and turn against its former owners one single powerful German PaK 40 anti-tank gun. They may also count on the support of several variants of Tetrarch airborne tanks: if the "vanilla" one's 2-pdr gun is not as effective as a real anti-tank gun, it provides some good fire support, mobility and a bit of resilience to enemy fire. Specialized variants include close-support, anti-tank (with Little John Adaptator) & command.

With few defensive means, but some excellent offensive ones, 6th Airborne is meant to be a very aggressive Phase A division, capturing as much ground as possible in early game. Yet, thanks to the arrival of 17-pdr guns in Phase B and plentiful of air support from the RAF, its defensive capacities greatly improves, allowing it to fight to retain control of the captured ground.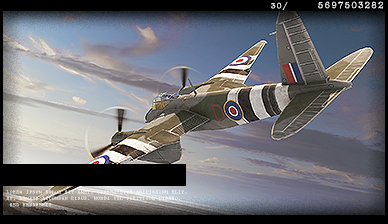 Note: Just like other paratroopers (yet not air landing troops), 6th Airborne's ones identified by wings on their unit cards represent troops which are unaffected by being on the wrong side of the frontline.