Let's focus today on the most successful of all D-Day's assault divisions: the 3rd Canadian Infantry Division.
FORMATION & TRAINING
The 3rd Canadian Infantry Division traces its origin to World War I, where the first of this name fought at the battles of Flanders, Ypres, and many more …
Disbanded after the war, it was raised again in 1940 in the wake of the German offensive in France and the Low Countries. Despite delays in its formation, it was transferred to the UK by mid-1941, where it trained in anti-invasion measures for as long as Britain remained under the threat of a German landing. In July 1943, 3rd CID, under general Rodney Keller, was selected as one of the Allied "assault divisions" for the planned invasion of France, as 1st CID had been dispatched on the Italian front & and the 2nd CID had been badly mauled in the Dieppe raid (1942) and was still in the process of being rebuilt.
For the next year, the division trained relentlessly for its mission. Although inexperienced, 3rd CID distinguished itself in several exercises and was regarded as solid by its superiors. Besides, being an all volunteers outfit, 3rd CID was noted for its high moral and eagerness to fight. As such, it was visited and reviewed by many VIPs, from generals Eisenhower and Crerar, to even the Canadian PM Mackenzie King. "Most are a pain in the ass", as one Canadian officer commented, and received a cold welcome, but one VIP did manage to win the rough Canadians' affection: King George himself, "a charming and courteous man".
(Credit: canadiansoldiers.com)
JUNO BEACH
Then came D-Day, on June 6th, 1944. 3rd CID's mission was to storm Juno Beach, then move inland to cut the Caen-Bayeux road, and seize Carpiquet Airfield.
Despite heavy resistance, the toughest after that at Omaha, 3rd CID managed to secure the beach and advance inland. Its spearhead even reached the "Oak Line", delimiting its final objectives. But due to a traffic jam on the beach and the much more modest advance of the British divisions on its flanks, 3rd CID was ordered to halt. Unable to support its most advanced units, which were in sight of Carpiquet airfield and asking for reinforcement to seize it immediately, Keller had to order them back to the secondary ("Elm") line. Carpiquet airfield, within the Canadians' grasp on D-Day, would only be taken, now rendered useless, one month later, after two days of intense fightings with 12. SS-Panzer.
Although it didn't seize Carpiquet that day, and even had to fall back from the Caen-Bayeux road, 3rd CID was the only "assault division" on D-Day to reach all its objective by nightfall, and had advanced further inland than anyone else, despite facing one of the strongest resistance in its path.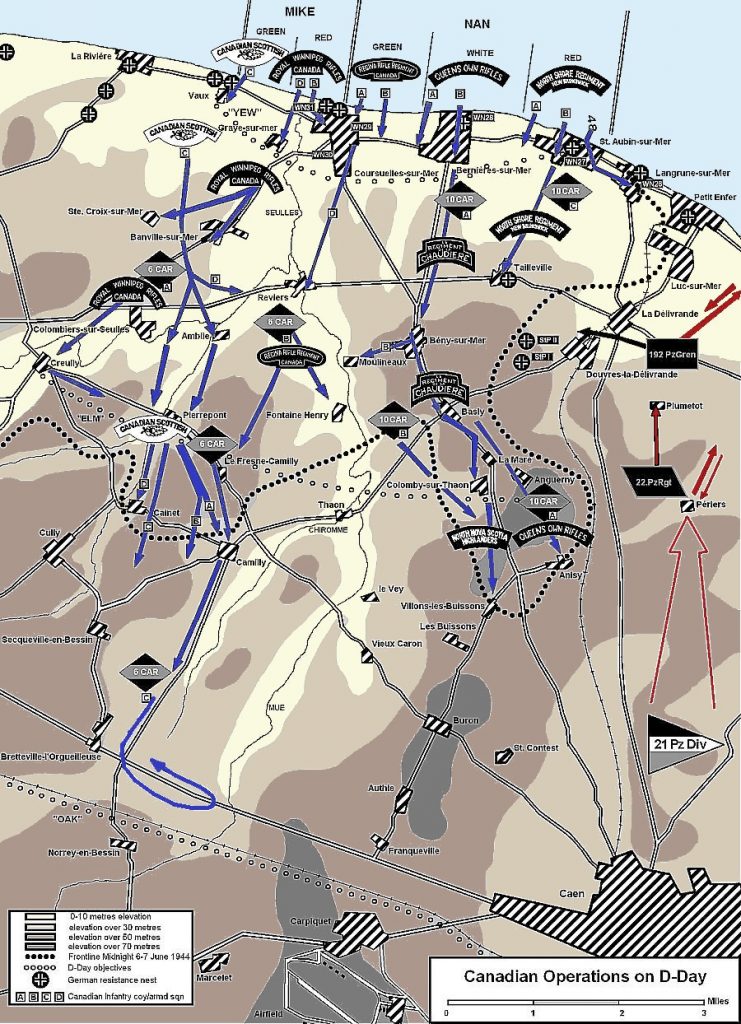 (Credit: canadiansoldiers.com)
THERE WILL BE (BAD) BLOOD
The Canadians soon made the acquaintance with what will become its personal Nemesis in Normandy: 12. SS-Panzerdivision. From June 7th to the end of the Normandy campaign, the Canadians will repeatedly find Kurt Meyer's teenage soldiers standing in their way. Soon, bad blood between the two arose: only a few days into the invasion, the unwritten rule on both side was 'no quarter asked nor given'.
3rd CID thereafter fought as part as II Canadian Corps in most major battles of the "Caen meatgrinder": securing Carpiquet airfield, operation Charnwood, crossing the Orne river, seizing Verrières Ridge, clearing the ruins of Caen house by house, closing the Falaise pocket, …
During the campaign, Canadian mechanics from the 'Kangaroo' workshop came up with the idea of using Priest SPG with their gun removed as personnel carrier, inventing what could be described as the first modern APC. Those conversions were first used during Operation Totalize, in August 1944, with great success. The same way, many Stuart light tanks were "jalopied", as was common in Italy, to give commanders & scouts a light yet sturdy carrier.
AFTER NORMANDY
3rd CID would not take part in the dash to the Rhine, being used instead to clear the German pockets still holding onto major harbours all along the Channel: Boulogne & Calais in France, then at the battle of the Scheldt in the Netherlands, in such poor conditions that the division earned its "Water Rats" nickname there, from no less than Montgomery himself.
Thereafter, it participated in
Operation Veritable
, the clearing of the Western bank of the Rhine, and then in the assault crossing over that major river.  From then, the division advanced toward the North Sea and entered German soil, ending the war near Emden.
ONE-MAN ARMY
No tale about the 3rd CID would be really complete without mentioning the division (if not the whole WW2 Canadian armed forces)'s most distinguished hero, and probably the most badass warrior to have soldiered through WW2: Léo Major.
Born in a French-Canadian family from Montréal, Major enlisted at 19, embarking for England with 3rd CID's French-speaking 
Régiment de la Chaudière
. There, he specialized in reconnaissance and sniping, joining the elite group of sneaky "sniper-scouts".
D-Day came, and with it started the incredible list of feats of arms & badass bravado which would turn him into a legend. Storming Juno Beach, he rushed ahead with a few comrades to destroy a fortified MG-nest with Bangalores. That afternoon, on patrol with another scout, he neutralized the crew of a command SdKfz 251/3, captured the vehicles with all its communication codes and brought it back to his battalion commander. That was only his first day in Normandy.
One week later, still scouting, he discovered a platoon of SS with a Panzer hiding in a barn, planning an ambush. He promptly dispatched the entire platoon, including the tank! His rampage almost ended on June 24th, when he was wounded by a phosphorus grenade, losing an eye. When told that his wound would have him discharged, Major refused, claiming that being a sniper, he only needed one eye to sight his rifle.
During the battle of the Scheldt, he went alone looking for a lost patrol, only to discover that they had all been captured by the German local garrison. Under a downpour, and pissed off, he decided to make them pay for being drenched: running around, sniping officers, scaring some just by screaming at them, he managed to have all 93 remaining Germans surrender. Offered the Distinguished Conduct Medal (DCM) by Montgomery himself for that action, he declined it on the basis that the British commander was "militarily incompetent" and thus in no position to be giving out awards.
On February 27th, 1945, Major was seriously wounded again, by a mine this time, while helping the regiment's padre recovering bodies. Suffering from major back injuries, he was to be discharged again. And again, he refused, fleeing from the hospital and taking shelter with a Dutch family who tended to his wound for a month. Only then did he got back to his regiment.
If that wasn't enough, it is only then that Major truly entered the legend. Two weeks after this return, he once again volunteered for a night patrol on the outskirt of Zwolle, which was to be bombarded and assaulted the next morning. But the death of his teammate, early in the patrol, triggered Major's "berserk mode". Discarding his original mission, he rushed into Zwolle alone, screaming, throwing grenades, firing bursts and disappearing, and going back and forth to his lines to deliver batches of prisoners and resupply his ammo, then heading back to the city. At one point during the night, he stormed the Gestapo HQ (or a night club for SS officers, depending on the version) and engaged in a gunfight with its occupiers, killing several and forcing the others to flee. When the sun rose on Zwolle, the German garrison, believing to be under attack by a whole brigade or division, had evacuated the city. Léo Major had in one night captured around 100 prisoners and freed the city all by himself, preventing a bombardment and an assault in the process. For this, he was offered a DCM for the second time, which he accepted.
Léo Major had developed a strange ethos regarding his German enemies after he learned about his battalion commander keeping tracks of his kills for publicity: he decided from that day that he would only wound his targets (usually by shooting them in the shoulders) in order to be able to capture them alive … as long as they weren't SS or officers. Those he apparently never brought back as prisoners …
WW2 ended, but not Major's saga. Gone back to civilian life after the war, he was asked by the Canadian government to volunteer again for Korea, to encourage enlistment for this war. And so he did, once again being a sniper-scout, this time with the Vandoo. During the Battle of Little Gibraltar, or Hill 355, in November 1951, Léo Major, leading his platoon of sniper-scouts, managed to retake Hill 227 from at least one battalion of Chineses. Entrenched in their enemies' formed positions, they then proceeded to defend it against all attempts from two Chinese divisions to retake it, Major calling artillery support always closer to their own position, in order to break every counter-attack. For this, he was awarded his second (or third) DCM.
---
THE 3RD CANADIAN INFANTRY DIVISION INGAME
3rd CID is very strong in Phase A, with plenty of infantry in armored personnel carriers, giving it a resilience unknown to other divisions' infantry. True to its "assault division" role, it also pushes many infantry support vehicles, such as the tiny Wasp (Universal Carrier fitted with a heavy flamethrower) or Priest DD set in assault gun mode, or guns forward.
One of the first Western nation to put on emphasis on sniping and deep recon, Canada also gets the opportunity to field sneaky 2-man Sniper Scouts.
Yet, this infantry-heavy doctrine comes at the price of few tanks & anti-tank guns in early game. But for a few Ram II command tanks and 6-pdr AT guns, the Canadians are better keeping away from enemy armors.
Only in Phase B do some Sherman III from the attached 2nd Canadian Armored Brigade show up, as well as Sexton SPG (another Canadian successful tinkering) but it is hardly enough to keep up with the enemy's armor build-up. At least the division's economy will allow to field them in numbers …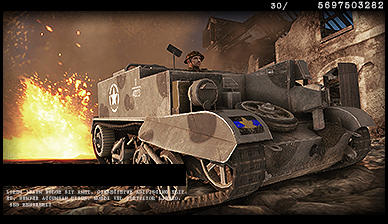 Relief comes in Phase C, with the opening of the Cat Hunting Season and delivery of the best AT guns the British Commonwealth has to offer: Sherman Firefly & Achilles, both armed with the powerful 17-pdr AT guns.
Note: Although all Canadian vehicles were IRL (and are ingame) duly marked with maple leaf tactical symbols, it is seldom known (at least outside of The Great White North) that Canada's maple leaf flag was only adopted in 1965. Therefore, Canada's flag ingame, as it was during the battle of Normandy, will be the one below.