Today is D-Day! We are pleased to announce that, after years of development, Steel Division: Normandy 44 is officially released! You can now buy the game on Steam.
The idea of Steel Division: Normandy 44 has matured over the years, nourished by our 17-year experience in making real-time strategy games and by our emotional connection to the conflict in Normandy. "We've always wanted to go back to World War II. As Europeans, we are connected to this period", Alexis Le Dressay, Creative Director at Eugen, explained. What we've been trying to do since the start of this project in 2015 is to use the historical Normandy setting to build up a new experience for players. This part of History offers great tactical possibilities as it involved a vast diversity of equipment, divisions, and battlegrounds.
What does make Steel Division: Normandy 44 so special?
As you may have understood, Steel Division: Normandy 44 is a tactical RTS set during the Invasion of Normandy, in June 1944. Lead 18 legendary divisions from six different countries, such as the American 101st Airborne, the German Panzer-Lehr Division, or the 3rd Canadian Division, and take command of over 400 units armed to the teeth with historically accurate weaponry. You will have to coordinate your squads of infantry, tanks, artilleries, aircraft and so forth to outmaneuver and outgun your enemy on 15 realistic maps that come in different sizes and that were made based on actual aerial reconnaissance photos of Normandy in 1944. The latest version of our IRISZOOM Eugen allows you to get an aerial view of your battlefield as well as zooming close to a single unit. You can fight alone against the AI or other players in intense multiplayer battles up to 10v10, and take part in an elaborate solo campaign.
Steel Division: Normandy 44 brings many gameplay innovations to the RTS genre, such as the 3-Phase system that unlocks units over time and the Dynamic Frontline illustrating the ebb and flow of the conflict. The frontline allows you to see your influence on the battlefield in real time, whereas the 3-Phase system avoids cheap units' spam and reflects the pace of historical battles, providing a renewed sense of momentum. These improvements give the player the real excitement of combat. Steel Division: Normandy 44 is all about tactics over brute force, you have to understand the whole battleground rather than chase down every single unit and micromanage everything.
The combat system has been redesigned to feel more visceral and realistic. We put a lot of work into our AI and the units' behavior. The new suppression system was designed to depict the stress soldiers could feel under enemy fire. A stressed unit will bail out, stop answering your orders and let the enemy gain ground. Under certain conditions, stressed units can also surrender. In Steel Division: Normandy 44, you will have to be smarter than your opponent: surround the enemy units, force them to retreat, make them surrender and push the frontline to expand your territory!
Experience a challenging solo campaign!
Adding hours of content, the single player campaign, divided into three independent storylines, provides another way of enjoying the game, in addition to the more competitive skirmish battles. Setting the game within the context of the Normandy invasion gave us the opportunity to put the player at the heart of legendary battles, such as the ones in Sainte-Mère-Eglise, on the Odon River, Hill 112 or Pegasus Bridge.
The three solo campaigns, divided into multiple missions, will challenge your skills and strategic thinking. For each campaign, you will have access to a limited pool of units, and your goal will be to keep most of them over the different battles. As Vincent Cambedouzou, game designer at Eugen Systems puts it: "Achieving your current objectives is one thing, but making sure your battlegroup will be able to fight the battles to come is another. The success of an operation will require an effective support and loss management."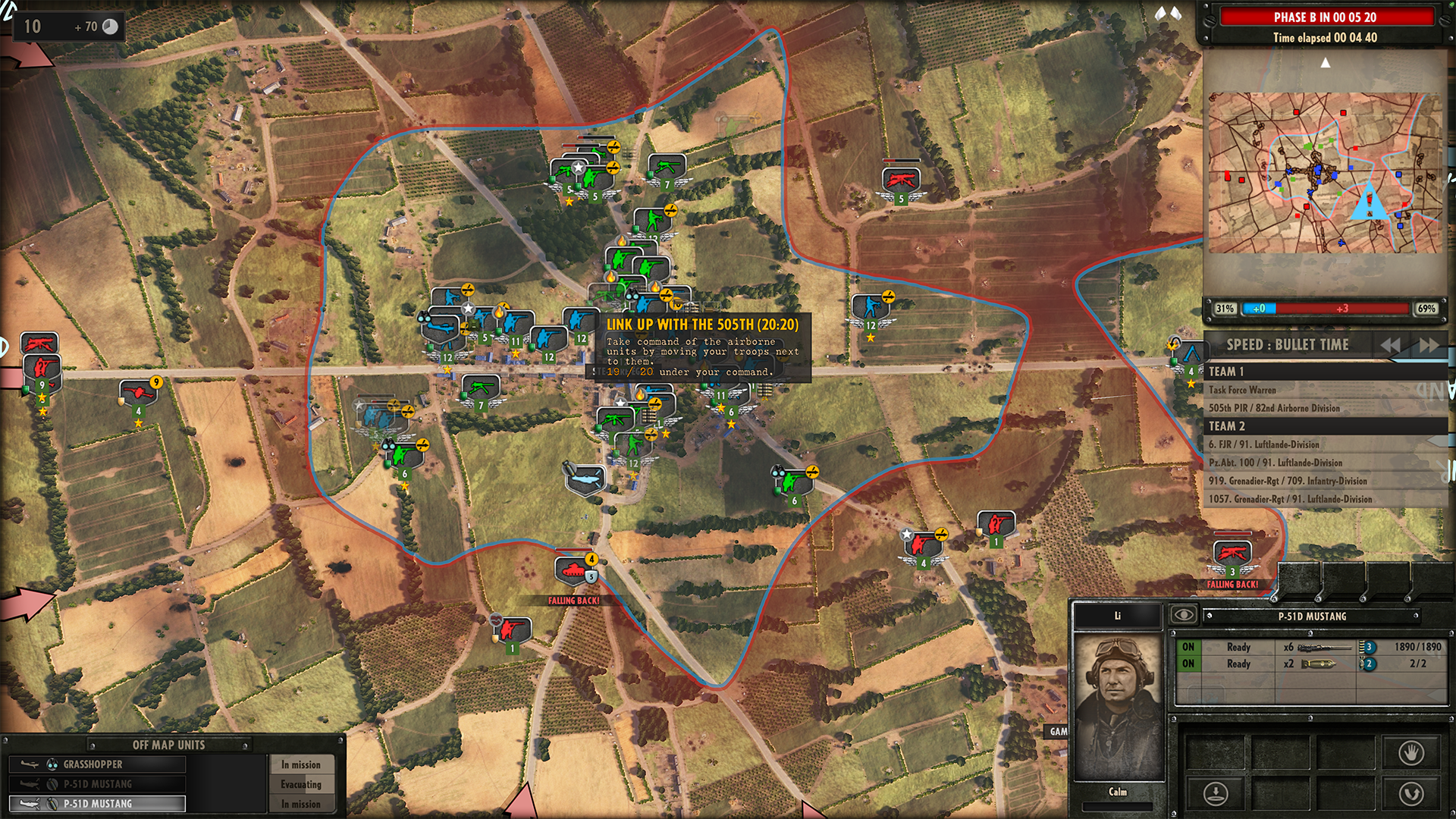 Boot Camp, Quick Play, and Modding
For the very first time, new players will have the opportunity to play detailed tutorials in Steel Division: Normandy 44's Boot Camp. Learn the basics of infantry tactics or dogfighting before throwing yourself into the heart of battle.
With our newly developed Quick Play mode, the endless waiting time before a multi-game is now officially over. This matchmaking system allows the player to find teammates with the same lever from 1v1 to 4v4, in ranked or casual. As Arthur Foltz, Lead Developer at Eugen Systems, puts it "Our new matchmaking system had only one goal: being able to easily find a ranked or casual game, whatever the number of players."
Finally, Steel Division: Normandy 44 is our first game to offer modding tools. Players will be able to mod the eighteen divisions: from the time and income per phase to the amount of units available and the units' statistics themselves (speed, power, stress, etc.). They will also be able to customize or create their divisions, units, HUD layout, meshes' skins, as well as add new meshes, sounds, and localization. Make the game yours! A Modding Manual is available to help you go through it.
I want to play!
You can purchase the game in two different editions:
Standard edition (39,99€)
With the Deluxe Edition, you'll receive many extras:
– The Art Book to take a look at the art and making of Steel Division: Normandy 44.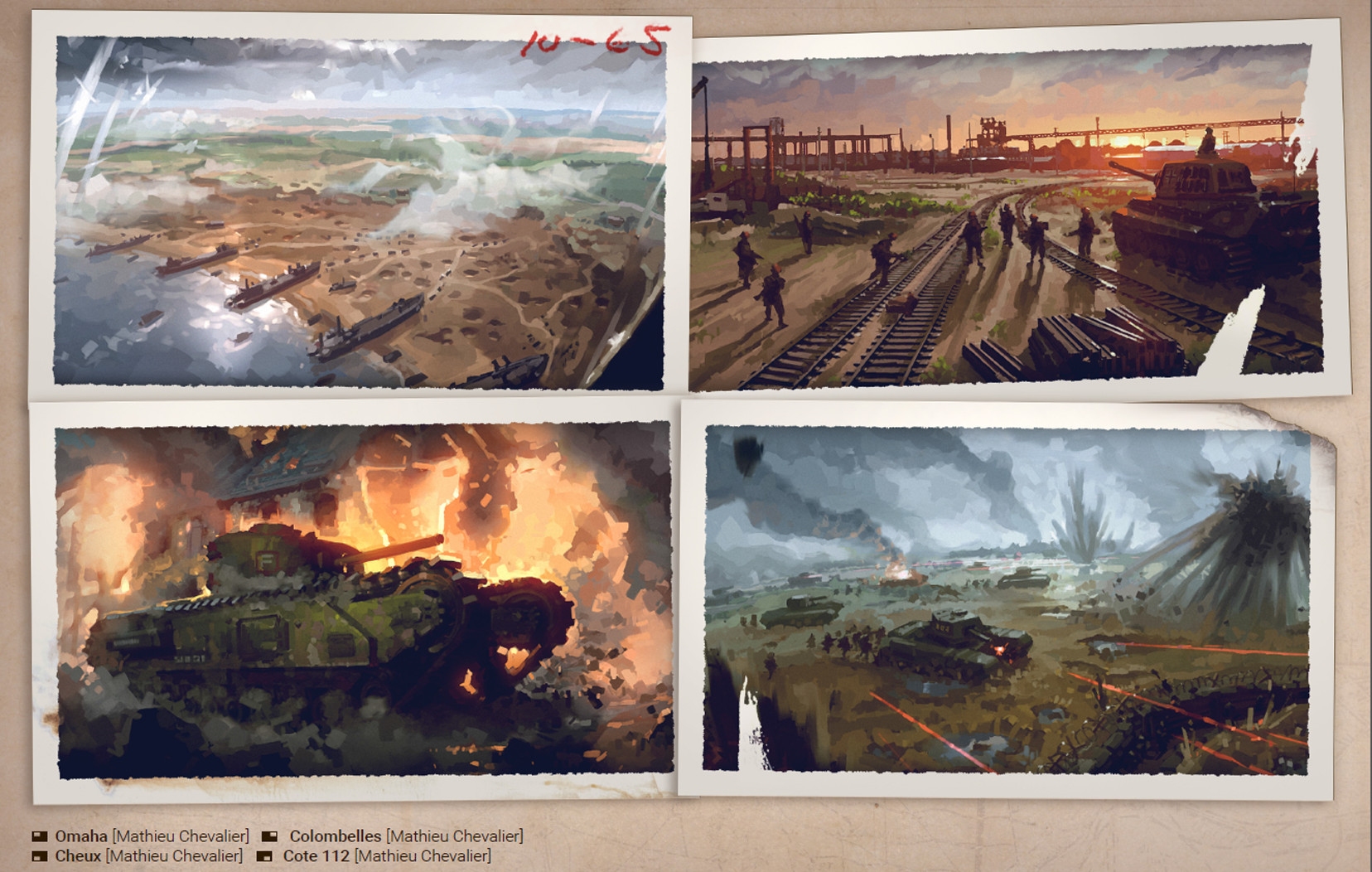 – The Digital Tactical Guide to get you up to speed with the terrain and tactics of the game.
– Six exclusive in-game Aces to fight among the great: Ernst Barkmann, Joseph 'Pips' Priller, Richard D. 'Dick' Winters, Wilfred Harris, Leo Major and Kurt Knispel! If you want to know more about these historical personalities you can deploy on the battlefield, we advise you to read our dedicated blog article.

– The Battle Log with many advice on the major maps of the game and how to fight on the field.
– Deluxe avatar and icon for the Paradox forums.
– Unique ringtones and text message sounds.

– Wallpapers from Steel Division: Normandy 44 to decorate your computer desktop.
– Streaming Steel Division: Normandy 44's Themed Overlays for those who stream on Twitch or YouTube.
Thank you!
For two years, close to 60 people worked continuously on this project, committed to delivering to the players the very best game possible. Today, the current Eugen team is proud to show you the fruit of that labor, finally. Thanks again for your support, making games wouldn't be such a pleasure if it weren't for such a community!
See you all in Normandy!